Our Industry 4.0 Partner Ecosystem
HT's Industry 4.0 strategic partnership with Telit and Senseye plays a critical role in its clients' robust digital transformation journey. It offers roadmap consulting and end-to-end execution support for successful business outcomes. The partnership between HT and Telit will bring forth a thoroughly developed Industry 4.0 and dashboard implementation where Senseye will focus on predictive algorithm solutions. With Telit and Senseye, Hinduja Tech looks forward to creating a better and customer-conscious Industry 4.0 solution for automotive OEMs.
The perfect blending of Telit's deviceWISE and Senseye's PDM solution allows HT to be viewed as the value-added integrator. While extraction of a large scale of data is a challenge for Senseye, Telit complements it with its capability of collecting data through its IoT platform. On the other hand, despite its penetration, Telit doesn't have scalable solutions like Senseye's PdM and hence hasn't leveraged to ramp up significant revenues.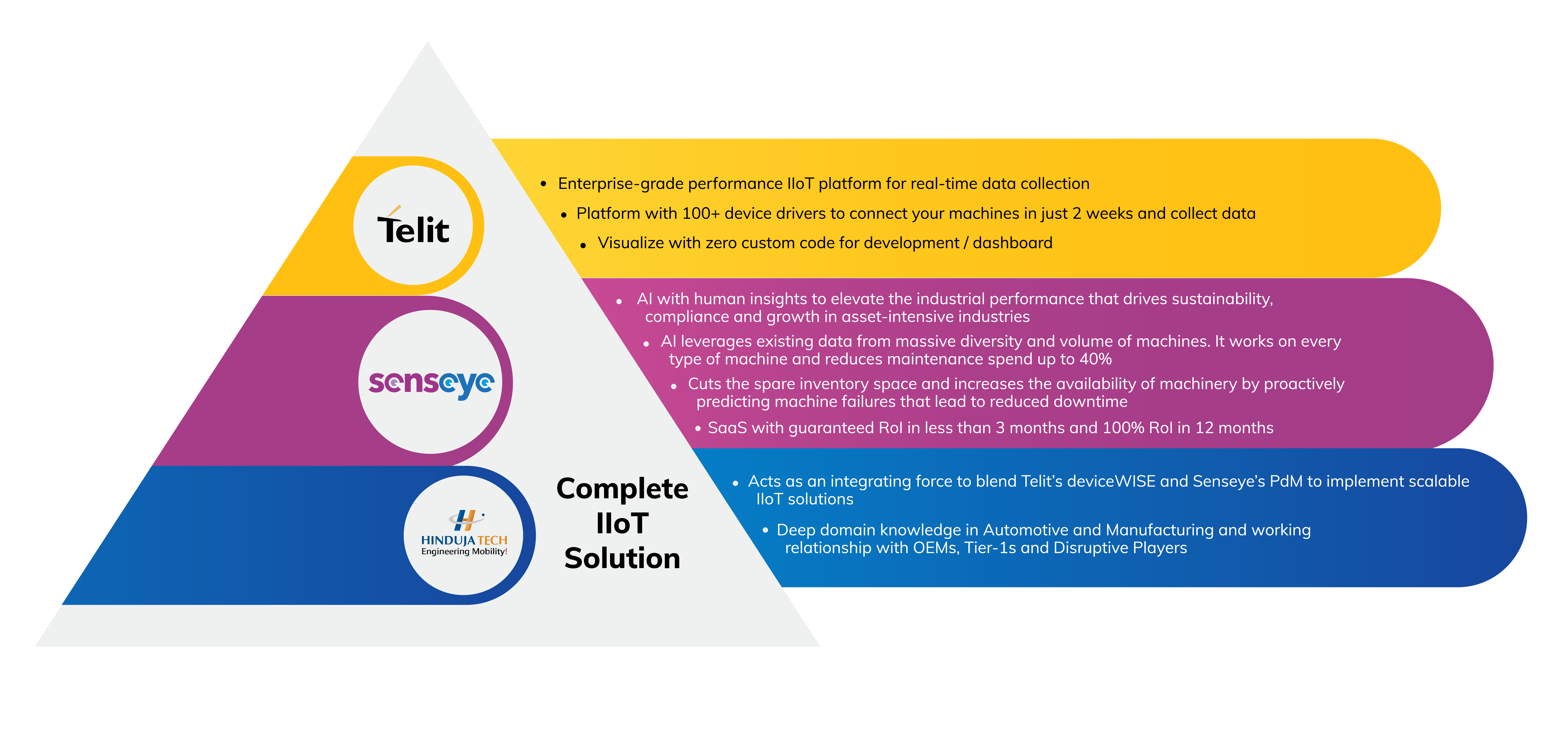 Senseye brings over a decade of experience developing AI-powered solutions for scalable machine reliability and sustainability. Senseye PdM provides automated analysis to Automotive OEMs and Tiers-1s to reduce cost and monitor machinery issues. Hinduja Tech, tied up as a value-added partner with Senseye, will provide a machine-to-cloud deployment using Senseye as the analytics to learn from the machine and establish maintainer behaviour. This guarantees business ROI resulting in Precise & Correct Maintenance, Reduced Operational Costs & Risks, Support for Mobile Workers, and Increased Sustainability.
Telit is a pioneer and leading enabler of the global IoT. It offers products for companies that rely on mission-critical connectivity and enterprise-grade performance. Its secure modules, IoT connectivity plans, software, and platforms enable end-to-end IoT deployments. The products can be separately or bundled as an integrated solution to reduce time to market and cost. The IoT platform connects more than 100 device drivers to as many machines in just 2 weeks with almost zero coding to derive insights from the data.